Jane Fonda has no plans to hang up her bullhorn anytime soon.
"I don't know how you could not," she said earlier this week regarding protests for climate advocacy. "I have grandchildren. I love animals, I love nature. We're going to destroy it all if we don't.
"It's all hands on deck right now, it's urgent, urgent and everyone has to join in right now," the "Book Club" actress told the New York Post this week at the Manhattan premiere of the sequel, "The Next Chapter."
Fonda infamously protested the Vietnam War when she was young, earning herself the derogatory nickname "Hanoi Jane" after she was photographed sitting on a North Vietnamese anti-aircraft gun in Hanoi in 1972.
JANE FONDA WALKS BACK 'MURDER' COMMENT ABOUT PRO-LIFERS AFTER GETTING TORCHED ONLINE: 'OBVIOUSLY MADE IN JEST'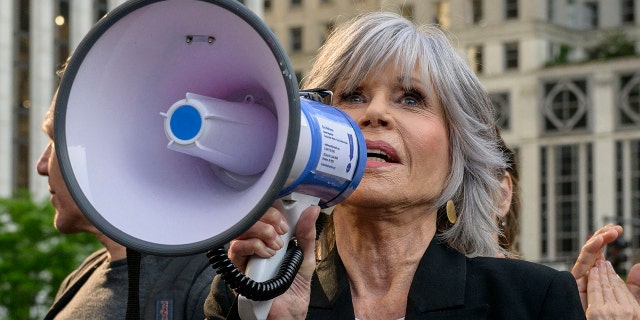 In her 2005 memoir, Fonda said she didn't think about the implications of where she was sitting in the moment, then immediately after pleaded that the photos not be published.
"As I start to walk back to the car with the translator, the implication of what has just happened hits me. Oh, my God. It's going to look like I was trying to shoot down U.S. planes!" she wrote at the time. 
CLICK HERE TO SIGN UP FOR THE ENTERTAINMENT NEWSLETTER
"It is possible that the Vietnamese had it all planned. I will never know. If they did, can I really blame them? The buck stops here. If I was used, I allowed it to happen. It was my mistake, and I have paid and continue to pay a heavy price for it."
In 2018, she reflected once again on the incident during the Television Critics Associations Summer Press Tour.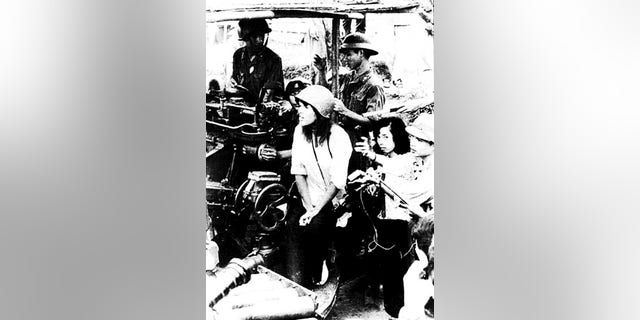 "I am proud I went to Vietnam when I did. I am so sorry that I was thoughtless enough to sit down on that gun at that time and the message that that sends to the guys who were there and their families. It's just horrible for me to think of that," she said. 
Fonda, now 85, continues to rally for progressive causes, including with Fire Drill Fridays, a climate group she founded in 2019. 
"Inspired by Greta Thunberg's call to act like 'our house is on fire' and guided by Naomi Klein's Green New Deal advocacy, Jane reached out to Annie Leonard, co-executive director of Greenpeace USA, and other trusted allies to say she was ready to do whatever it would take to stop the climate crisis," Fire Drill Fridays says of its inception on its website.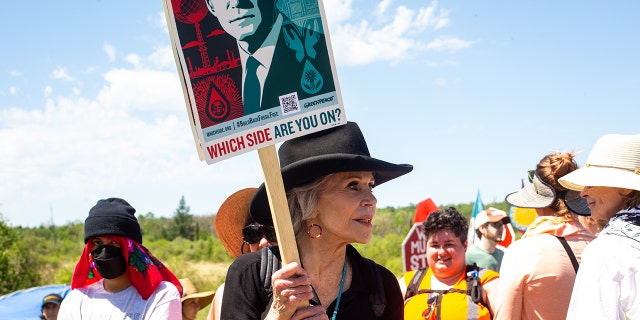 Fonda was arrested five times in 2019 during climate protests. 
Last week, the "Monster-in-Law" star joined a group calling out President Biden's "broken promises" on climate policies in New York City while he was there to raise money, according to AMNY.com.
"We've been polite, we've marched, we've protested, we've written, we've made speeches. We have to up the ante now," Fonda told the crowd demanding Biden stop approving fossil fuel projects. 
"We have little time left. The opportunity to save the planet and our future – the window on that is closing rapidly, and we have to do something about it."