The odds of college football seeing just its second back-to-back Heisman Trophy winner have taken a major hit.
Caleb Williams, the winner of the 2022 Heisman Trophy, had his worst game of the season on Saturday against Notre Dame as the USC Trojans were soundly beaten in South Bend, Indiana.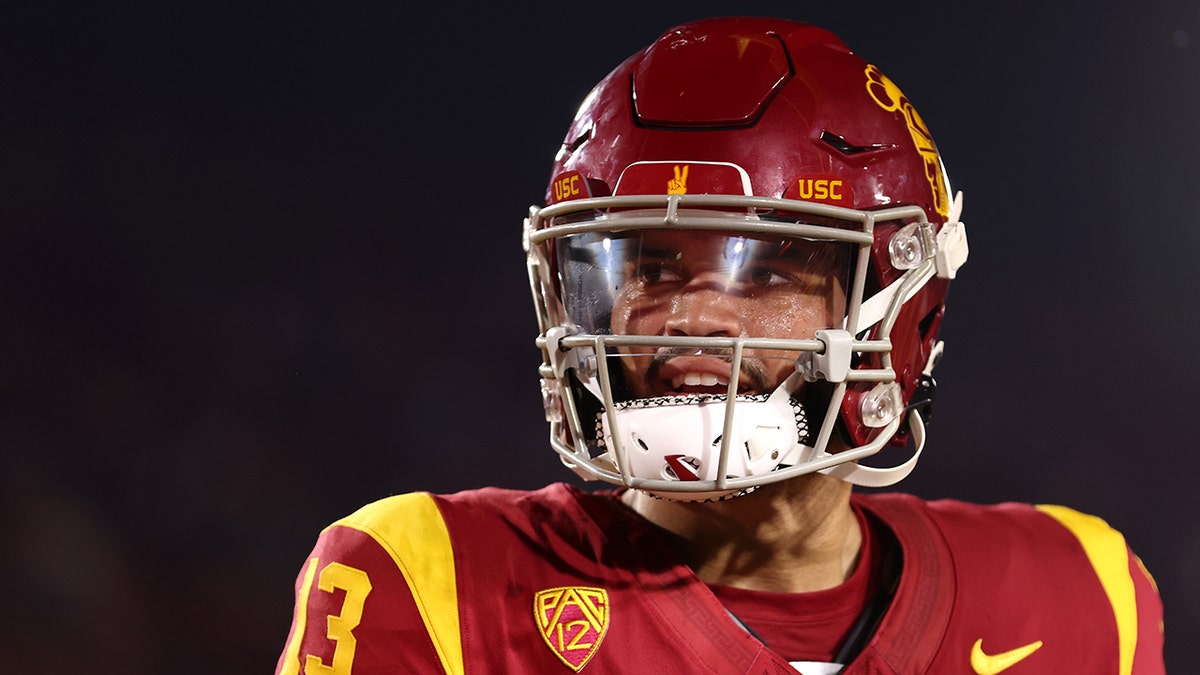 Williams threw for just 199 yards with three interceptions as the Trojans turned the ball over five times in the route.
"I made mistakes that I usually don't make," Williams said. "Nights like that happen. You have to get through it. You got to keep fighting. You have to be a leader."
WHAT COLLEGE FOOTBALL FANS LEARNED FROM THE WEEK 7 SLATE
USC still has a lot to play for as they remain undefeated in the Pac-12 with a difficult stretch of games ahead of them. Williams will have plenty of opportunities to show why he should be considered for the most prestigious award in college football, but his performance against Notre Dame will not be easily forgotten.
"It's going to be a battle," Caesars Sportsbook college football lead Joey Feazel told Fox News Digital when asked about Williams' Heisman chances after the loss to the Irish. "And certainly, if he's able to be the Caleb that we saw last year and win these clutch games and really show out, then he's absolutely in the mix."
Feazel also alluded to the difficulty in winning back-to-back Heisman awards due to the bias in voting that comes with it, along with USC's difficult schedule the rest of the way, as to why his odds have dropped.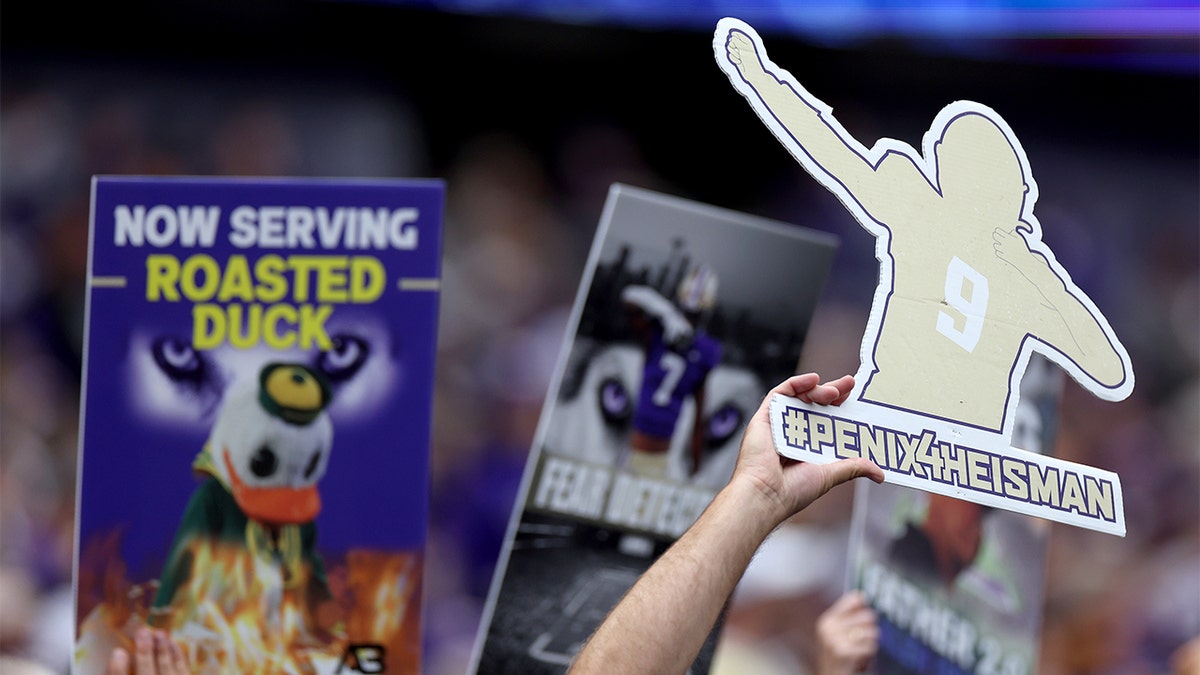 Williams' rough game has had an impact on the Heisman Trophy odds as another Pac-12 QB has taken a commanding lead. 
Let's take a look at the top three players with the best odds after Week 7 to take home the 2023 Heisman Trophy, according to Caesars Sportsbook.
Michael Penix Jr., Washington: -140
The Washington Huskies had the eyes of college football pointed toward Seattle on Saturday for their matchup with Oregon, the first time the two teams had both been ranked in the top 10 in the 115-year history of the rivalry.
The focus on the matchup has done a lot for Huskies quarterback Michael Penix Jr. and his Heisman Trophy prospects. 
Penix Jr. entered the weekend as the betting favorite to win the award, but after a thrilling 36-33 victory over the Ducks, the senior QB has taken a commanding lead. 
A LOOK AT COLORADO'S PATH TO BOWL ELIGIBILITY AFTER STANFORD COLLAPSE
Penix Jr. led Washington on a game-winning drive late in the fourth quarter, completing an 18-yard touchdown pass to Rome Odunze with 1:38 left in the fourth quarter.
He finished the day after completing 22 of 37 passes for 302 yards, four touchdowns and one interception.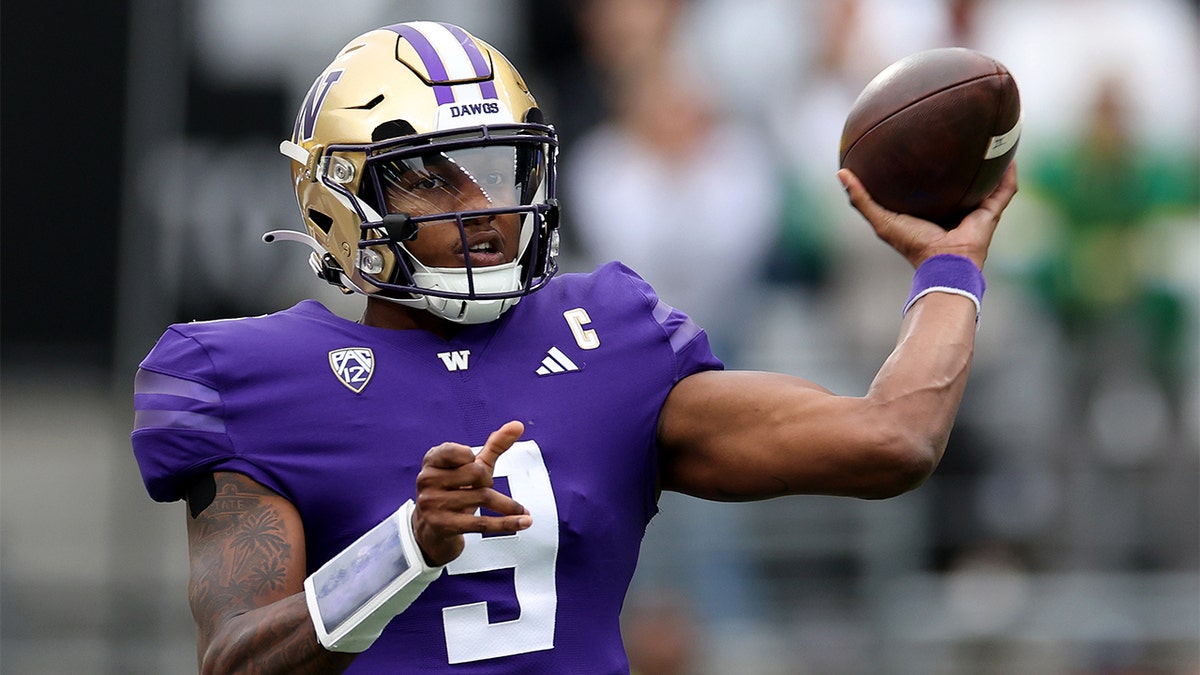 Penix Jr. is second in the nation in passing yards (2,301) and fourth in passing touchdowns (20).
Washington is now in the driver's seat in the loaded Pac-12 with games against USC, Oregon State and Utah still on the schedule. 
Feazel said the reason for Penix's separation from the pack is due to a combination of factors. 
"It's that Washington now controls their destiny," Feazel said. "It's not like Michael Penix had a bad game. He threw for over 300 yards, four touchdowns, threw an interception, but obviously it was a big victory for Washington. And it really puts some separation and puts them at the top of that Pac-12 really where they can control their destiny whether they can go to the national championship."
"But the big move, too, was also the guy he was competing with, Caleb, had a really bad game at Notre Dame. The first big defense they played, threw three interceptions, just really didn't look himself. And the way this USC team is built, they're not able to stop a lot of teams. Notre Dame easily put up 48 points. [It] could have been more in that game. And that also speaks to how can USC fix that and be a national contender if you're going to have a big loss like that in such a big game."
Dillon Gabriel, Oklahoma: +800
The Oklahoma Sooners had a bye week after defeating the Texas Longhorns in Week 6, but Gabriel has gone from the fourth-best Heisman odds to the second.
USC quarterback Caleb Williams had his worst game of the season in a 48-20 loss to Notre Dame, and while Oregon's Bo Nix played well against Washington – throwing for 337 yards and two touchdowns – his Heisman odds have taken a hit, moving Gabriel up the ladder.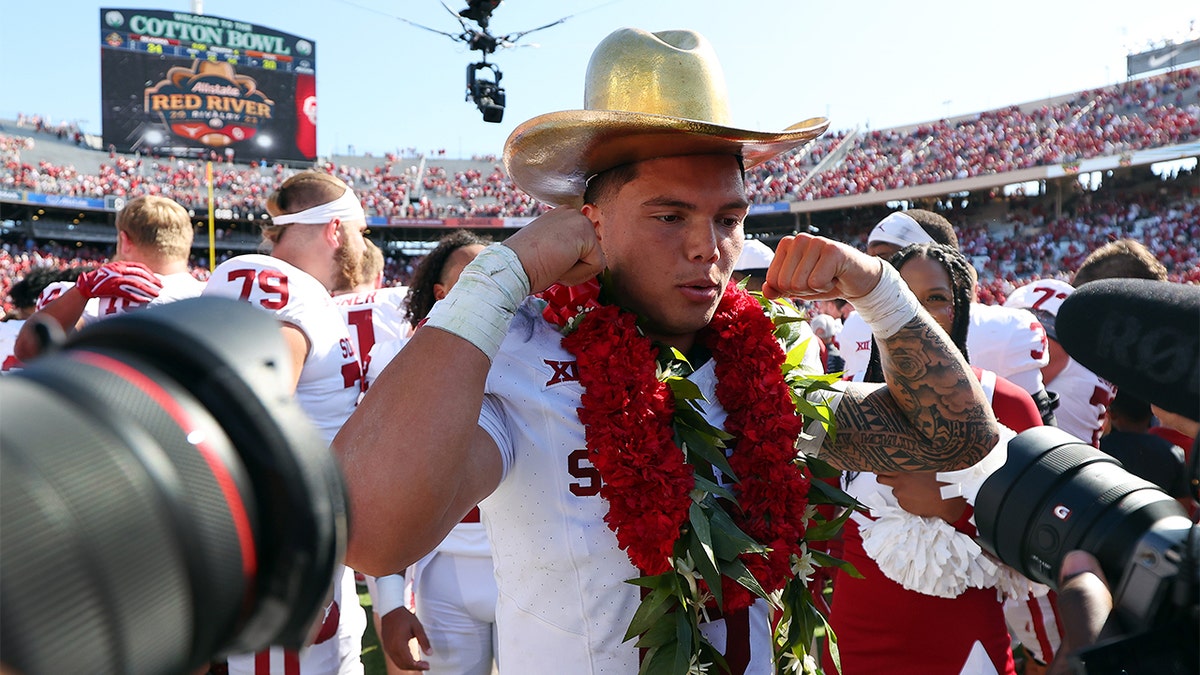 Gabriel's stats are not at the same level as Penix Jr.'s, throwing for 1,878 yards and 16 touchdowns, but his late-game heroics against Texas in the "Red River Rivalry" has put him in the Heisman conversation.
Oklahoma's schedule the rest of the way is manageable as the Sooners don't have a ranked team on the schedule, though Kansas was ranked earlier in the season.
Jayden Daniels, LSU: +850
LSU quarterback Jayden Daniels is commanding the second-best offense in the country with a defense that has struggled to get stops.
The Tigers are second in the country in yards per game (550.4) and third in points (45.3) per game.
Daniels is second in the nation with 23 passing touchdowns and third in yards (2,294). He's also added four scores on the ground.
Against Auburn in Week 7, Daniels completed 20 of 27 passes for 325 yards, three touchdowns and an interception in a 48-18 drubbing of the Tigers. Daniels also rushed for 93 yards.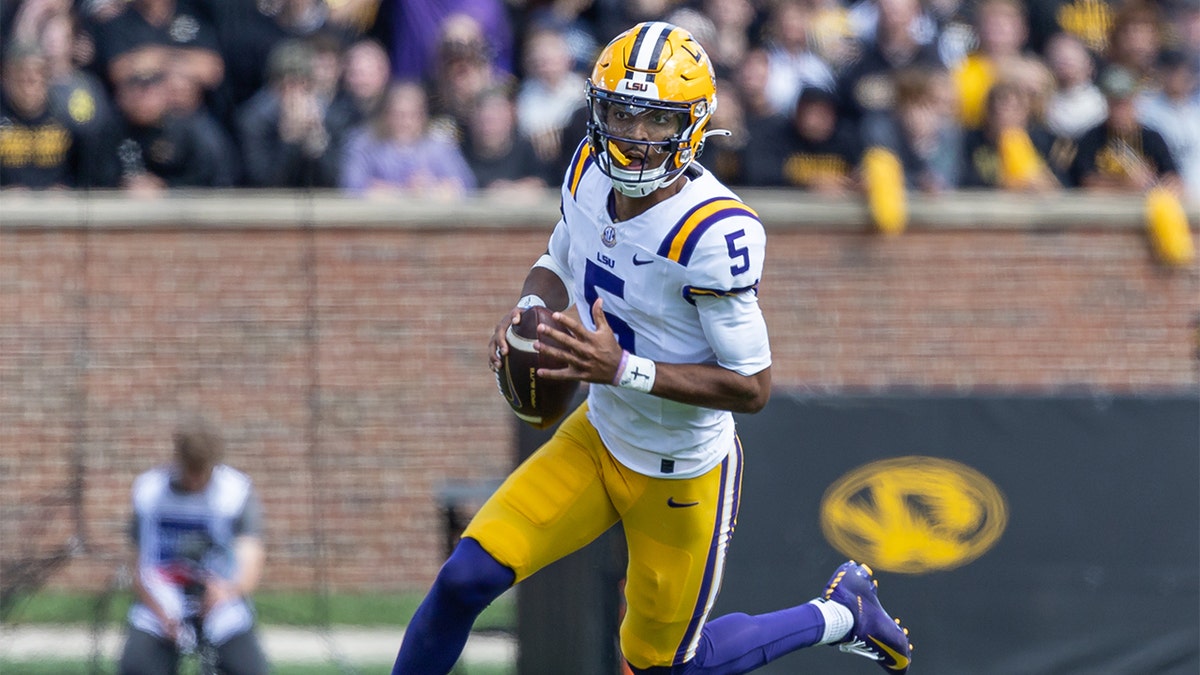 The problem with Daniels is that LSU is likely out of the College Football Playoff picture after dropping games to Florida State and Ole Miss earlier in the season.  
Winning plays a big role in Heisman voting, though Daniels seems to be bucking the trend.
"He is kind of the exception this year where we're seeing even with those two losses, he puts up some numbers," Feazel said. "If you watch him play, both on the ground, both in the air, he gets these wins for this LSU team."
"If they get in a spot where they're able to compete for the SEC title game again, in combination, he certainly has a chance," he continued.
Others in the mix:
J.J. McCarthy, Michigan: +1000
Drake Maye, North Carolina: +1100
Jordan Travis, Florida State: +1100
"They have two tough games on the schedule and that's it," Feazel said of J.J. McCarthy and Michigan. "They should have a pretty clear path to the national championship. He's going to be in the mix. He also looks better this year passing-wise then he did last year."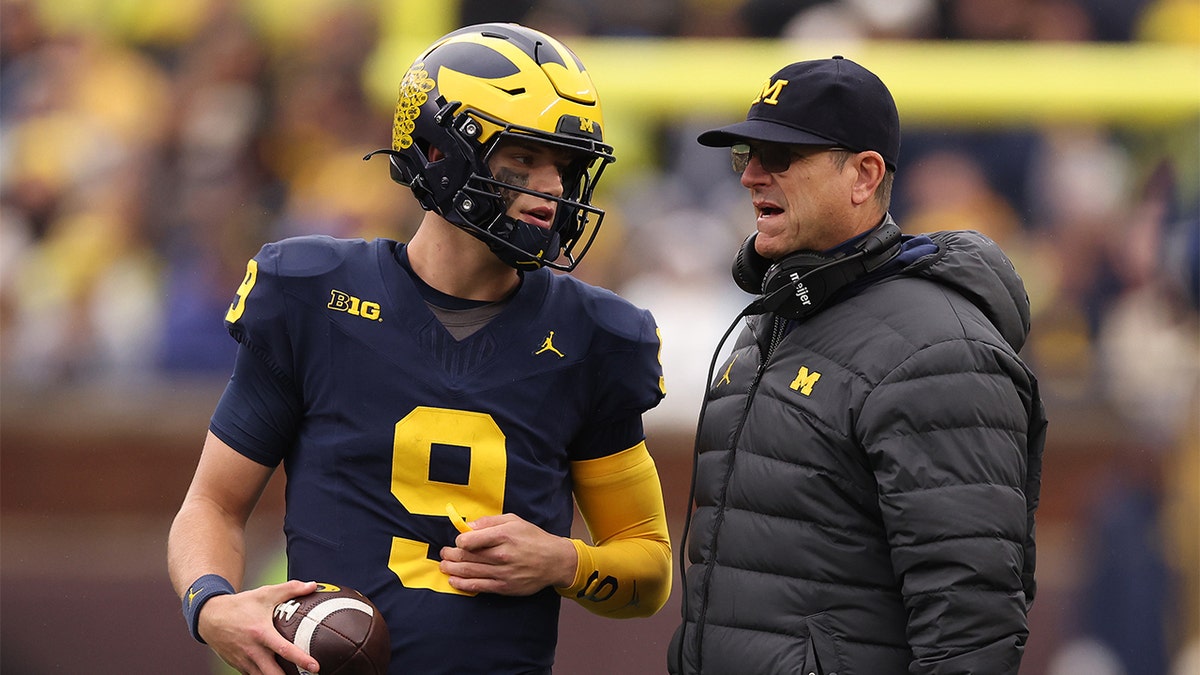 "And then you have Jordan Travis. Florida State is slowly just grinding toward that College Football Playoff. Kind of being the dominant force in the ACC. So, he's going to be in the mix as well."
Caleb Williams, USC: +2200
Quinn Ewers, Texas: +3000
Drew Allar, Penn State: +3000
Bo Nix, Oregon: +3000
The Associated Press contributed to this report.