Maroon-hued aspen groves. 
Golden wonderlands. 
Fresh mountain air. 
There's a lot to love about fall travel — especially when you head to one of the American mountain towns detailed here.
FROM GEORGIA TO CALIFORNIA, NEW HOTELS IN AMERICA TO BOOK RIGHT NOW FOR FALL TRAVEL
They all pack in a whole lot more than otherworldly vistas and are sure to surprise and satisfy you and your loved ones with great lodging, interesting cultural attractions, and the soul-restoring mountain breezes that many people crave.
Check out this list of eight. 
Dahlonega, Georgia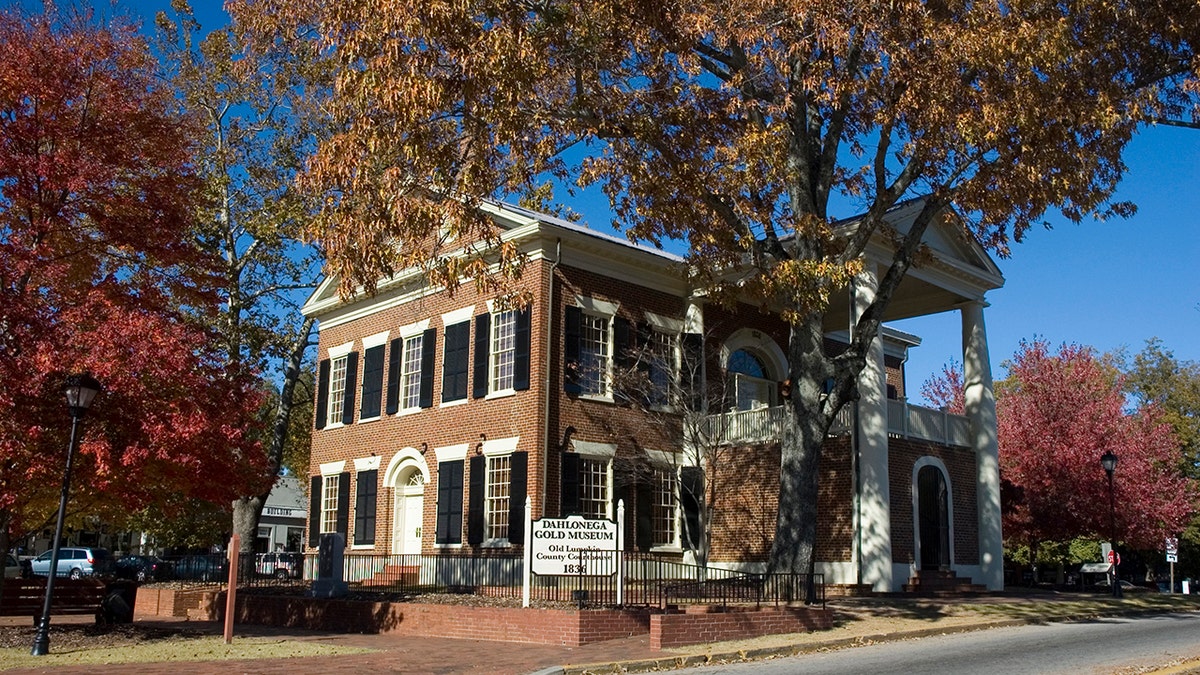 Head just north of Atlanta and you'll arrive in Dahlonega, an Appalachian Mountain town of some 6,600 residents. 
Billed as the official wine country of Georgia, this area has plenty for adults to savor. It's also super family-friendly thanks to the town's gold mining history and access to outdoor adventure aplenty. 
TOP PUMPKIN PATCHES IN AMERICA THAT OFFER FALL FUN FOR THE ENTIRE FAMILY
During your stay, channel your inner 1830s surveyor and scope out the town's gold attractions (there's a history museum, mine tours, and opportunities for panning). You can also take a jaunt to a local wildlife zoo and enjoy a hike or a fly-fishing adventure. 
Agricultural attractions also reign supreme here. Try the Butterfly Farm, Lavender Farm or U-Pick options.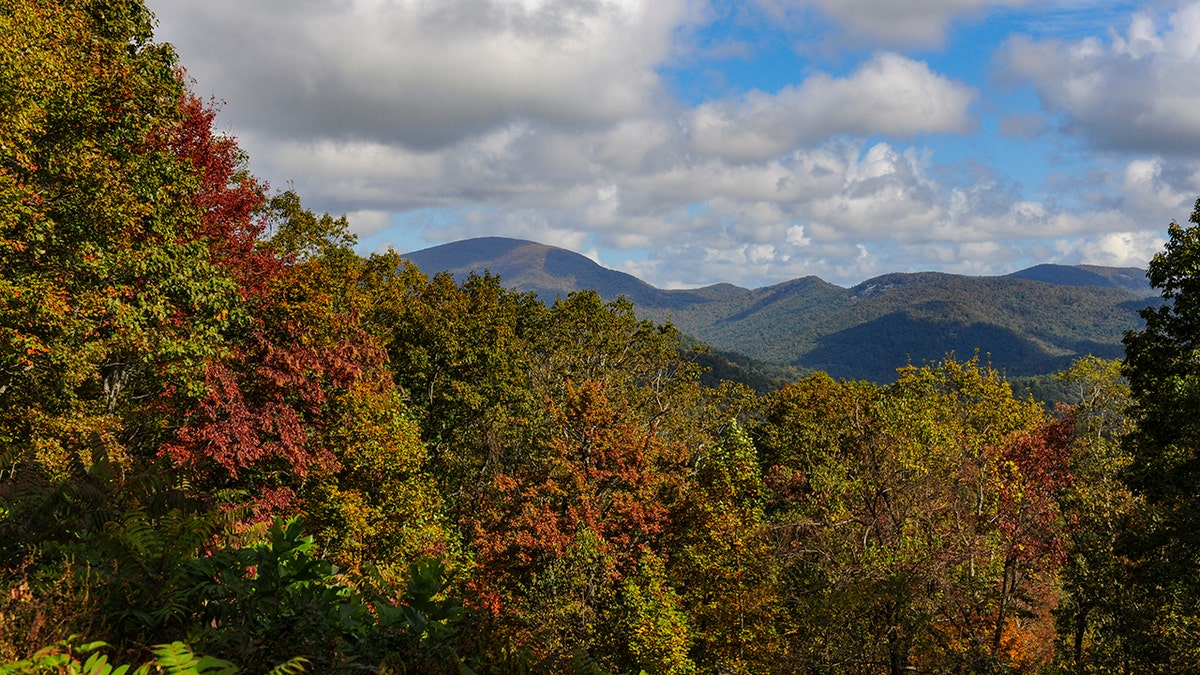 Mom and Dad will delight in shopping in the town's square (and Giggle Monkey Toys is a winner for kids) at the end of a long day of fun. 
For your digs, post up at Forrest Hills Resort with a roster of lodge and cabin rentals and an outdoor pool.
10 BEST FALL GHOST TOURS FOR SPINE-TINGLING FUN IN AMERICA
For more information, visit dahlonega.org.
Haywood County, North Carolina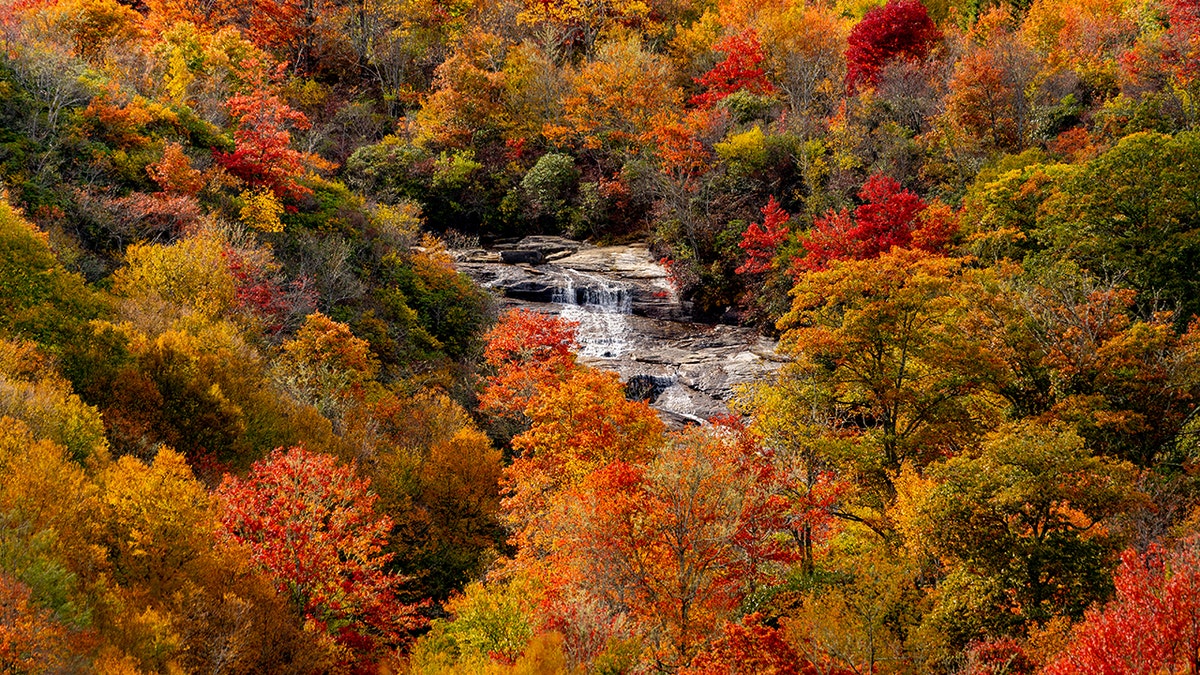 Haywood County comprises five mountain towns, all a quick 45-minute drive or so from the more touristy Asheville. 
Here, you'll find Maggie Valley, Waynesville, Lake Junaluska, Canton and Clyde all alight in the rich golds, vibrant reds and burnt oranges of autumn. 
When you're not leaf-peeking or watching for wildlife (the Cataloochee Valley is known for its elk inhabitants), enjoy apple picking and hiking.
FALL QUIZ! HOW WELL DO YOU KNOW THESE FACTS ABOUT THE UPCOMING SEASON?
For a guided experience, book Cataloochee Valley Tours for a chance to head out into the Smoky Mountains and see the aforementioned elk, as well as black bears and white-tailed deer. 
Call it a night at Jonathan Creek Inn, where you'll want to check out a creekside fireplace room.
For more information, visit visitncsmokies.com.
Washington, Virginia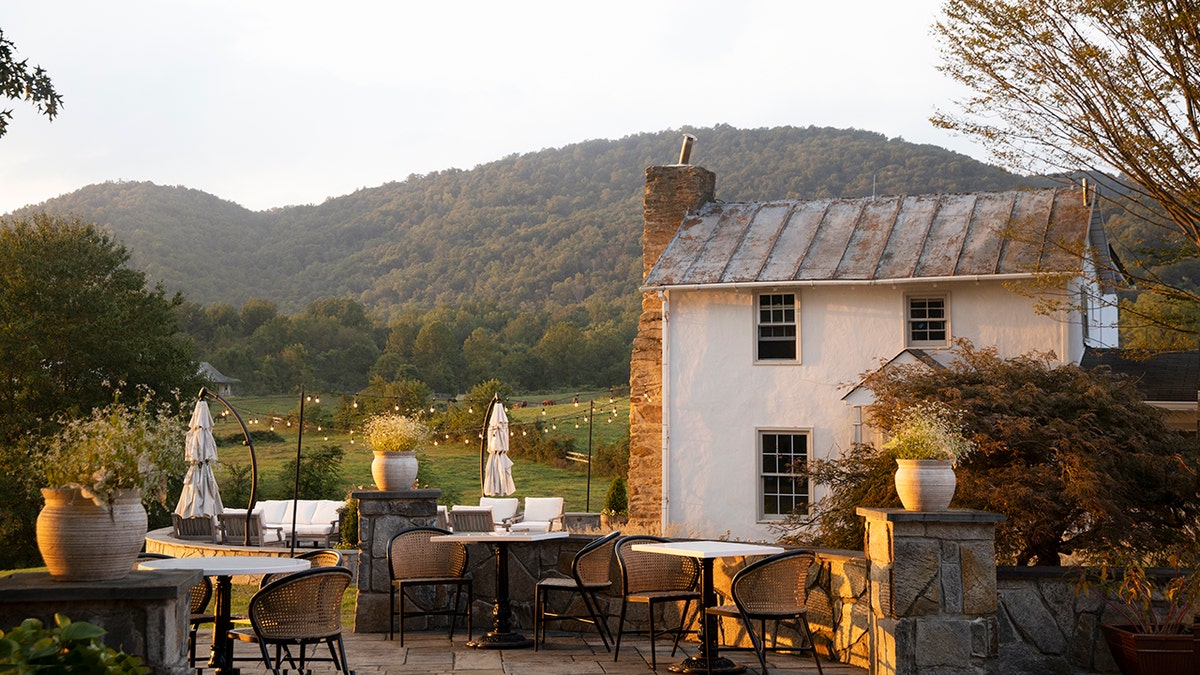 Sometimes, you just want a family getaway where you can sit in a chair by a fire pit and read (perhaps with a glass of wine or a warming cup of tea in hand) and let the kids run around until they're exhausted. 
If that's the case, venture about 90 minutes outside of Washington, D.C., to the historic town of Washington, Virginia. 
Blue Rock has something for everyone. It sits on some 80 acres, all overlooking the scenic Blue Ridge Mountains. 
FALL HOSTING TIPS: HALF BAKED HARVEST SHARES ADVICE FOR THROWING A DINNER PARTY, BEST GIFT TO BRING A HOST
The property offers its five-bedroom Inn and Farmhouse, a five-bedroom rental home ideal for larger groups. 
When grown-ups aren't enjoying Blue Rock's Tasting Room outdoor patio with some live music, entertain the kids at nearby Luray Caverns (the largest caverns in the eastern United States), Shenandoah National Park or North Mount Marshall, great for children 10 and under, as it's a one-mile hike with a 350-foot gain. 
For more information, visit washingtonva.gov.
Allegany County, Maryland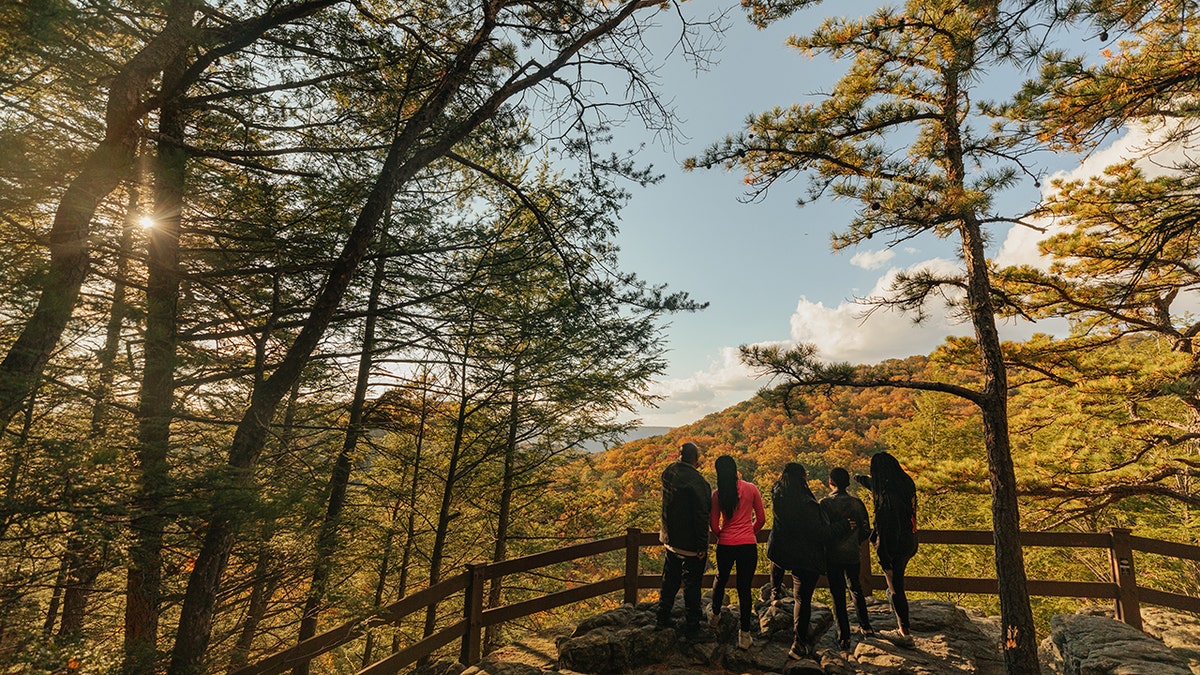 Billed as "The Mountain Side of Maryland," this area allows you to set up camp at Rocky Gap Casino Resort, situated in Rocky Gap State Park near Cumberland. 
Come autumn, highlights include the Western Maryland Scenic Railroad, which offers a three-hour round trip excursion from Cumberland to Frostburg and back aboard a fully restored 1309 steam engine that was constructed in 1949.
For the more active set, there is Tracks and Yaks, the state's first rail biking company, which takes riders through the scenic Western Maryland Railway and Great Allegheny Passage corridor. 
Another great option is the Great Allegheny Passage, dubbed the GAP Trail. 
HOLIDAY TRAVEL TIPS: FREQUENT FLYER SHARES FIVE WISE WAYS TO TRAVEL BETTER THIS SEASON
Serving as both a bike and pedestrian trail spanning from Pittsburgh, Pennsylvania, to Cumberland, Maryland, it connects to the C&O Canal Towpath for another 184.5 miles to our nation's capital city. 
However you choose to experience the more than 70,000 acres of public land in Allegany County, foliage enthusiasts are sure to be rewarded with some of Mountain Maryland's most scenic and historic landscapes bursting into a kaleidoscope of colors.
For more information, visit mdmountainside.com.
Ulster County, New York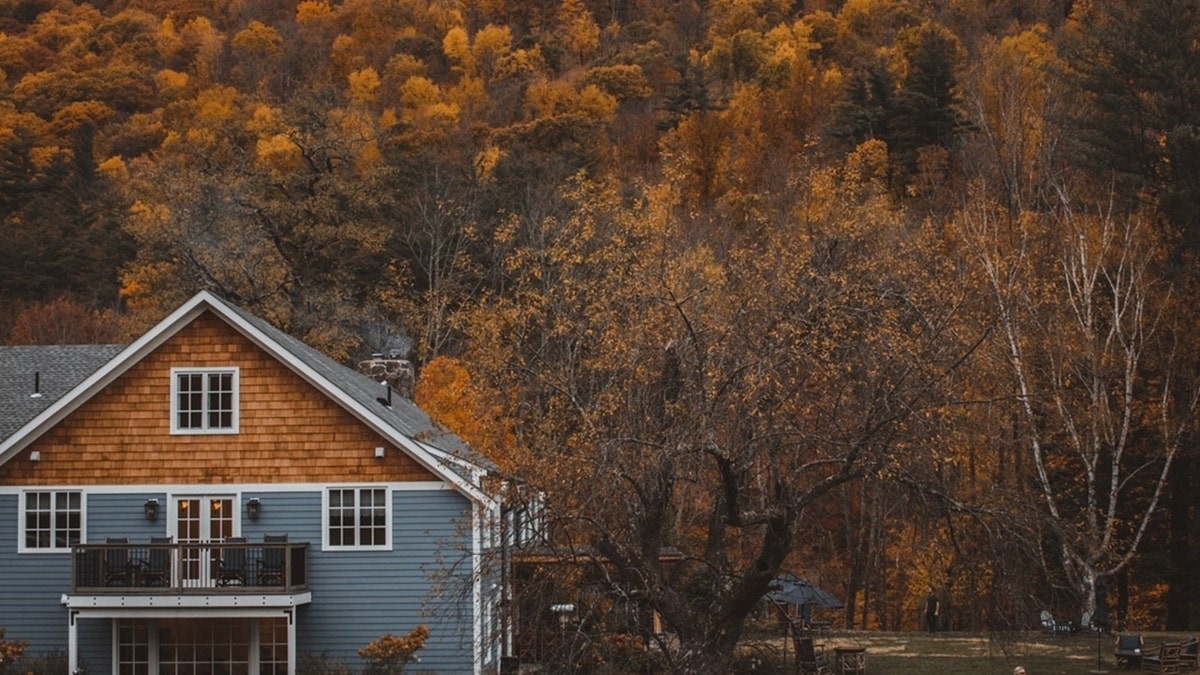 If your idea of a dream fall vacation entails not leaving your hotel while still soaking up fantastic vistas, there's the Shandaken Inn in the pristine Catskill Mountains, about two hours north of New York City. 
The bed and breakfast-style boutique hotel showcases modern design throughout its 15 unique and handsomely appointed guest rooms and new private cottages opening this fall. 
You and your crew can enjoy a cornucopia of hiking trails featuring several that are near the hotel. 
The Catskills have a long and storied legacy as a premier vacation destination for grand resorts and camps, and Shandaken Inn tips its hat to this past with what it calls an "elevated camp-like experience." 
THE BEST SCENIC DRIVES FOR FALL COLOR IN AMERICA AND WHEN TO GO
It has a tennis court, outdoor fire pit with s'mores, and more than 12 private acres of land for guests to wander about, bordered by the Esopus Creek. 
If you're somehow feeling stir-crazy, though, you and your crew can enjoy a cornucopia of hiking trails featuring several that are near the hotel. 
There's also The Empire State Rail Museum, apple picking at one of the region's many farms, visiting the animals at The Catskills Animal Sanctuary and plays like "Charlotte's Web" at Woodstock Playhouse.
Ohiopyle, Pennsylvania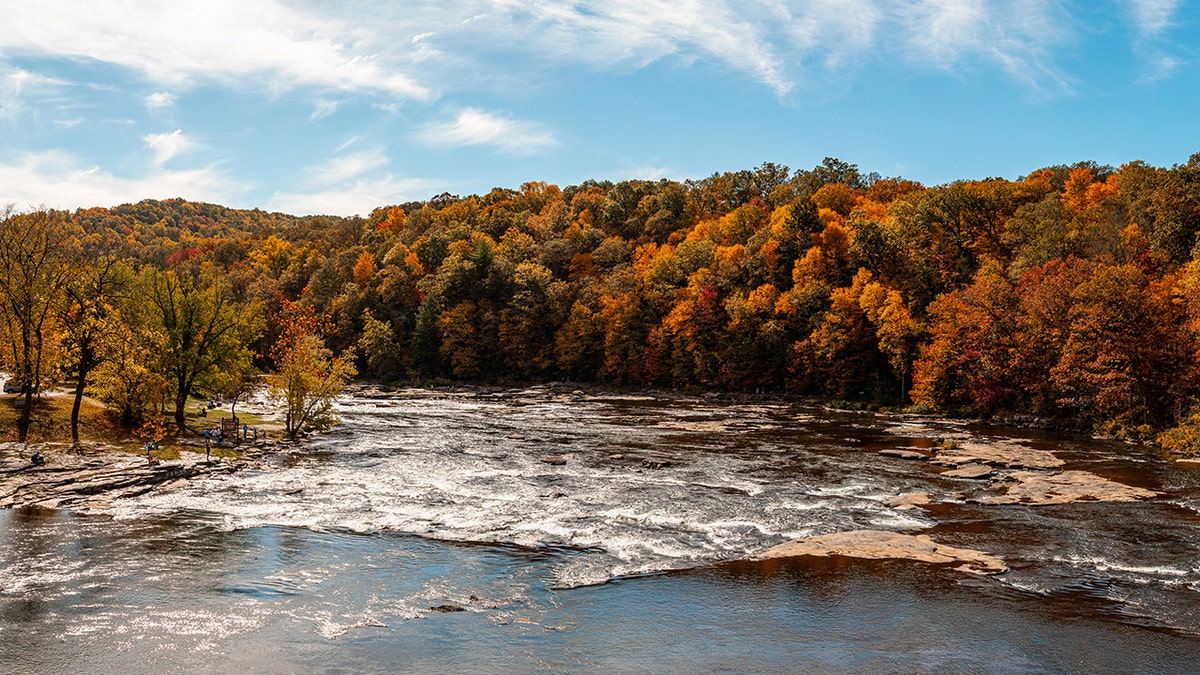 The mountains of Southwestern Pennsylvania shine in the fall when the 3,000-square-miles of the Laurel Highlands region twinkle in shades of green, orange, red and yellow. 
Kick off a fun-filled family holiday at Ohiopyle State Park, known for hiking, fishing and whitewater rafting on the Youghiogheny River (pronounced YAWK-o-gain-ee). 
For more outdoors action, cycle on the Great Allegheny Passage — or hike on the Laurel Highlands Hiking Trail. 
If indoor diversion is more your speed, Fallingwater, a house designed by celebrated architect Frank Lloyd Wright and a UNESCO World Heritage Site, offers wonderful tours. 
HOLIDAY TRAVEL ALERT: DON'T GET DUPED BY SCAMMERS
Unwind about 20 minutes away at luxury resort Nemacolin, which has a safari tour of the lions and tigers on-site, paintball, cosmic bowling, an indoor pool, kids' art classes and top-notch dining. 
Plus, babysitting services for parents are on offer.
For more information, visit golaurelhighlands.com.
Tahoe City, California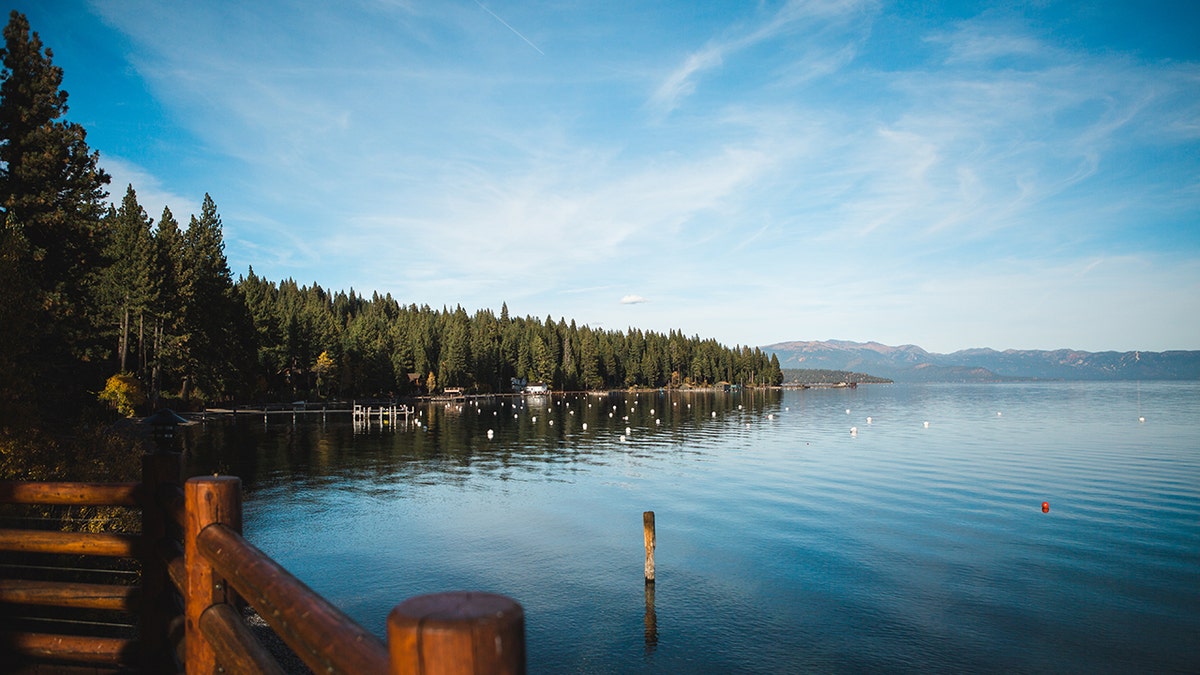 Time to check Tahoe off the must-visit list! 
When narrowing down where to stay in this region, which spans two states (California and Nevada), set your sights on Tahoe City in North Lake Tahoe. 
If you and your youngsters are all about chasing thrills, the Tahoe Adventure Company can get you set up with outstanding stand-up paddleboard tours, kayaking excursions, backpacking and more.
CLICK HERE TO SIGN UP FOR OUR LIFESTYLE NEWSLETTER
When your muscles are aching, retreat to Granlibakken Tahoe, a resort located next to the Tahoe Rim Trail. 
If you're ready to go hiking and mountain-biking bright and early the next day, all the power to you. 
Otherwise, sleep in and then climb up to the canopies at Tahoe Treetop Adventure Parks for aerial adventure at every level.
Colorado Springs, Colorado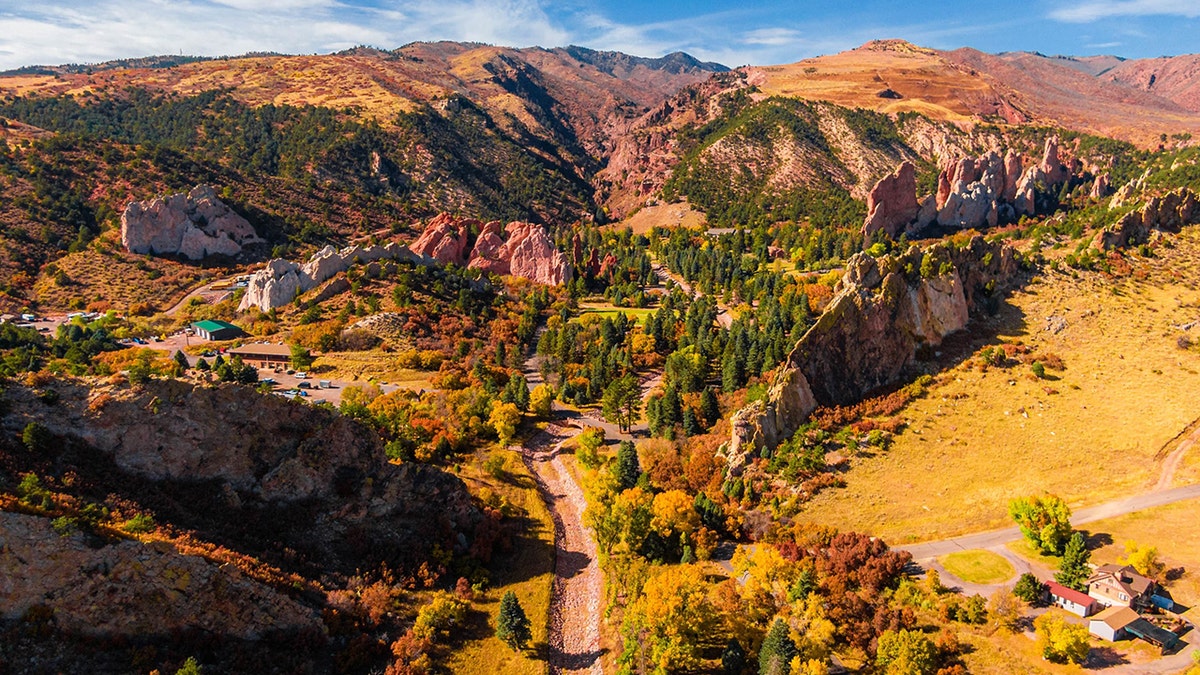 Journey to the Pikes Peak Region and you'll be met with stunning alpine views, golden aspen trees and the rugged beauty of Cheyenne Mountain State Park, a 2,701-acre park with more than 28 miles of trails for hiking, biking and designated trails for equestrian and dog lovers
While in the Centennial State, make Colorado Springs your home base, preferably reserving your room at The Mining Exchange Hotel & Spa. 
Built in 1902 as a stock exchange for local mining companies, this downtown hotel gives you easy access to local attractions like the Western Mining Museum's pumpkin patch festivities on Saturdays in October and The Broadmoor Manitou and Pikes Peak Cog Railway up Pikes Peak, so you can set out on stellar hikes like Pancake Rocks Trail. 
Don't skip town before carving out some time at the Colorado Springs Pioneers Museum and Old Colorado City, a National Historic District established in 1859.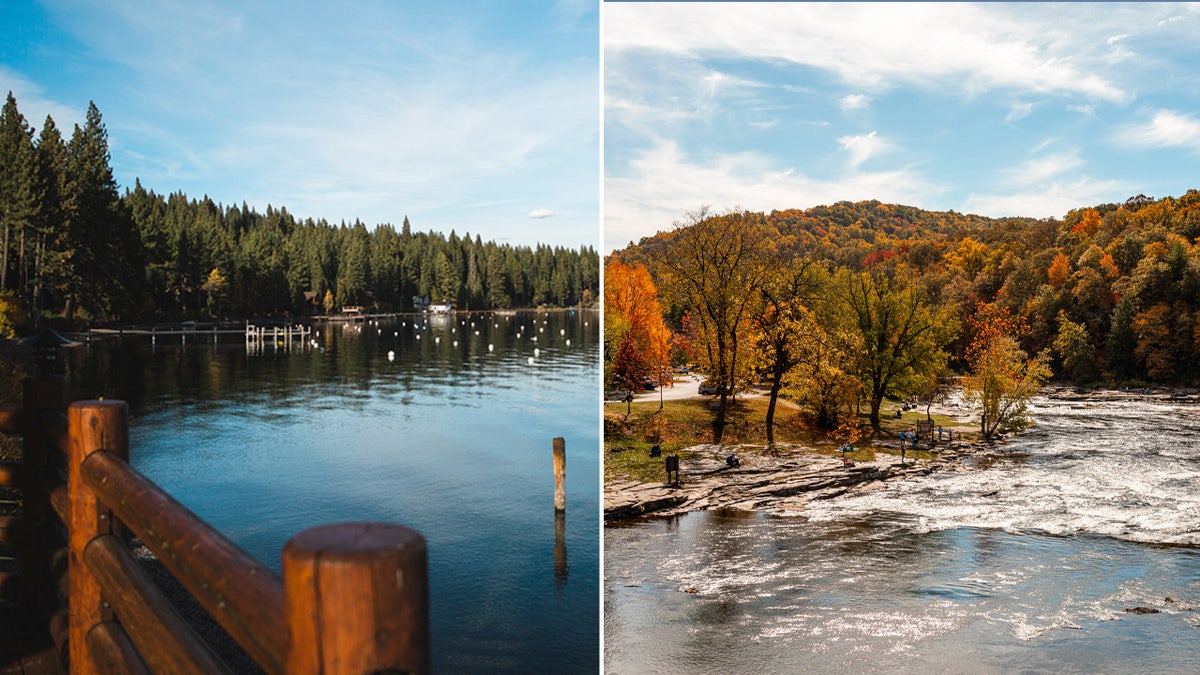 Here, you can get lost scouting galleries showcasing the work of painters, glassblowers, metalworkers, jewelers and wood-turners.
For more information, visit visitcos.com.
For more Lifestyle articles, visit www.foxnews.com/lifestyle.