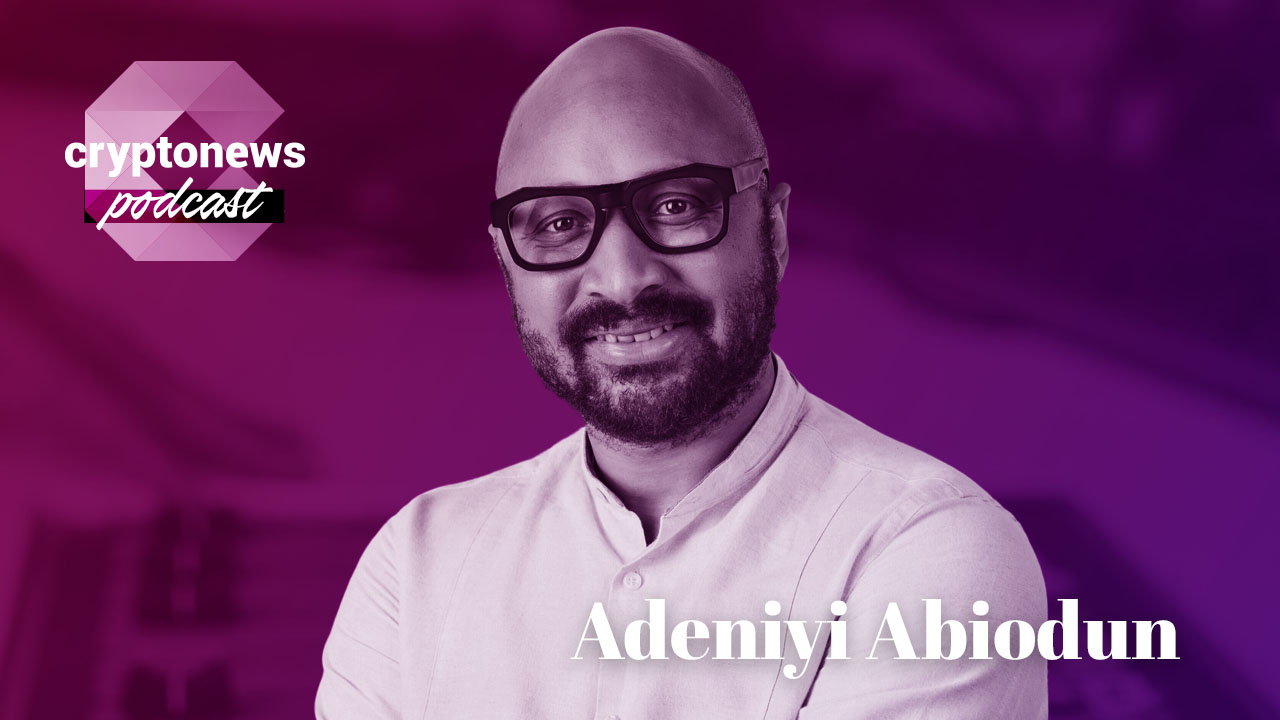 In an exclusive interview with cryptonews.com, Adeniyi Abiodun, Co-Founder and CPO of Mysten Labs, talks about building Facebook's blockchain/cryptocurrency Diem, crypto as a solution for the unbanked in the world, and Sui blockchain.
About Adeniyi Abiodun
Adeniyi is a product leader with experience spanning from financial services to crypto. Adeniyi has led engineering and product teams across Big Tech companies including Oracle, VMware and Facebook. Prior to founding Mysten Labs, Adeniyi led many of Meta's R&D initiatives in blockchain and cryptocurrency, including the Diem (aka. Libra) Network and the Move programming language.
Adeniyi Abiodun gave a wide-ranging exclusive interview, which you can see below, and we are happy for you to use it for publication, provided there is a credit to www.cryptonews.com. 
Highlights Of The Interview
Facebook's blockchain/cryptocurrency Diem (aka. Libra) Network
Blockchain-based authentication, web3 identity, and onboarding the next billion users with a frictionless solution
Crypto as a solution for the unbanked in the world, as well as for preventing fraud and capital mismanagement
The importance of gaming and the digital economy that newer generations are being part of
The role blockchain technology and crypto can play for corporate brands
Supporting the Sui community with Ecosystem and Community Development funds


Full Transcript Of The Interview
Matt Zahab 
Ladies and gentlemen, welcome back to the Cryptonews Podcast. We are buzzing as always and I'm super pumped to have today's guest on the show, the one and only Adeniyi Abiodun. He's the Co-Founder and CPO of Mysten Labs, a true product leader with experience spanning from financial services to crypto. He has also led engineering and product teams across Big Tech companies, including Oracle, VMware and Facebook, ever heard of them before. Prior to founding Mysten Labs, he also led many of Meta's R&D initiatives in blockchain and crypto, including the Diem, aka Libra Network, cannot wait to get into that and the one and only Move programming language. And we've been going back and forth for a hot minute. Super pumped to have you on my man. How you doing? 
Adeniyi Abiodun 
Doing great. Thank you for having me on, really so pleasure. 
Matt Zahab 
Pump to have you. You said you're living in Cali right now, one of my favorite places on the planet. I mean, has its ups and downs like everything else, but since that beautiful accent of yours, we'll brought you over to the West Coast in Cali. 
Adeniyi Abiodun 
Interestingly, I'm born in Nigeria, left when I was 7, went over to the UK, my dad is doing his PhD, so the whole family moved over to the UK and lived in London for almost all of my life since then. In 2014, actually, if I say 2011, I found out about Bitcoin and I built my first company in Bitcoin Space in 2012. And that company actually, I moved that over here to California and I've been in the Bay Area ever since. 
Matt Zahab 
San Fran, is it as bad as everyone says it is? Not bad. Beautiful again, one of the most beautiful spots on the whole planet, but like the homeless, the shits on the street, all that kind of stuff, is it still… 
Adeniyi Abiodun 
It is all that and even more. Luckily, I live in the Bay. I live south of that. I'm in San Jose, so offices in Palo Alto, we don't have to deal with San Francisco by regular. But it's a beautiful city. It's just a shame to where it's gone. 
Matt Zahab 
Yeah, no, I feel that. Walk me through, before we get into the crypto stuff and the Facebook stuff, tell me a little bit about childhood, you know, growing up, a little bit of experience, you need the whole nine yards and then we'll get in. Before we get into crypto, we got to touch a good amount of the show on the Facebook stuff because I remember, I mean, everyone remembers this was non-crypto people, heck, my parents, you know, friends and family and everyone in the network. As soon as Facebook now Meta started talking about Diem and Libra, it was like, holy shit, this is going to change the world. And obviously present day, not a whole lot has happened there, but to speak with someone who actually built that and was on that team is so incredible. So I can't wait to get into that. But before that, give us the, you know, the whole nine yards in regards to your childhood, where you went to uni, passions, just so myself and the listeners can get a little lay of the land here. 
Adeniyi Abiodun 
Yeah, so born to Nigerian parents, grew up in Nigeria till I was seven. I have three siblings, one brother, two sisters. We moved over to the UK, actually, started off in Scotland, where my dad was doing his PhD in Aberdeen University, then moved over to London, and where we spent most of our lives. I actually went to university in London. I studied at Queen Mary University, studied electronic engineering with computer science. I actually started my university degree doing astrophysics, to be honest, and realized it's not going to make much money. Did an astrophysicist, I took the experience and said, okay, well, I need to do something that's actually going to make me somebody. So I did electronic engineering. And after studying that, I actually went on to do a job that's very well-aligned. I was a software engineer working with software and hardware. So I worked on hardware, put hardware together for monitoring oil wells, and then the software that managed the systems as well. So I wrote all the software, including some of the operating system elements that was required. But that got me very into the world of hardware and software. But my passion ended up being mostly on the software side. So I went over to work in banking to build risk systems, risk management systems for hedge funds and investment banks. Quickly after that, one of the JP Morgan was building trading systems for credit risk. Basically the credit derivatives, the stuff we call the things that cause financial disasters many times over. But that was a lot of fun. I actually had a great time at JP Morgan, but due to that time, I found out about Bitcoin. And then HSBC, when I was running software for managing risk for market makers, and the prime brokerage side of our business, I decided to build a Bitcoin mining company, interestingly. 
Matt Zahab 
What year was this when you built Bitcoin mining company? 
Adeniyi Abiodun 
I started mining Bitcoin in 2011, but I built my Bitcoin mining company in 2012. So I did pretty well on Bitcoin. I wish I didn't sell the majority of my Bitcoin. I probably won't be here. But that got me the bug. I mean, reading the paper, the Satoshi White Paper really brought some things over about what I was doing in the world of finance and I became enamored by what this tech could potentially do. It wasn't just a crypto side that interested me more than anything. It was actually more the decentralization aspect of having an infrastructure that could be run by disparate organizations that don't have to trust each other but can now have this decentralized trust and if this leads to a whole heap of possibilities. And I really wanted to get involved. And the way I knew how at the beginning was solving the problem of mining because I was mining for myself, my friends were interested in mining. I just started running hardware and eventually they asked me to run it for them. And then I started having equipment in data centers. And very quickly it became the scenario where I put up a website and people started paying me to mine on their behalf. And that started my world of crypto. 
Matt Zahab 
Who introduced you to Bitcoin? 
Adeniyi Abiodun 
I found it interestingly. There was a colleague of mine that told me about it. And when I heard about it, I kind of ignored it because it sounded kind of out of the world, right? The fact that you could solve this problem of trust seemed a bit out there. I never dealt into the details that I read the paper myself. It was one of my colleagues, at JP Morgan. And then at HSBC, I dug into it a lot more. And at that point, I became convinced. I got my first win. I started mining it and it became like a drug. It became addicted to it. 
Matt Zahab 
Now you also worked for some massive tech companies like Oracle and VMware. We're going to skip those bad boys. Let's jump right into Facebook, right into Meta. What did that call sound like? Walk me through that whole process of you, I assume getting poached and joining Meta's R&D team for initiatives and blockchain and crypto, and then walk me through everything that happened with Diem, Libra. And again, just for the listeners back at home, I forget exactly what year this was, but this was, I want to say 2020 perhaps, but this was like the talk of the town. This news was insane. You had massive headlines, Facebook launching their own cryptocurrency, we'll wipe out everyone else's, Facebook launching their own blockchain. The hype was real. It was hype city population you guys. Walk me through everything that happened. I can't wait to get into this. 
Adeniyi Abiodun 
Sure. I remember when the news came out that Facebook was launching its own blockchain. I was blown away that that was even a possibility, knowing the kind of company Facebook was. I would never work in Facebook unless it was something related to crypto. I was at that point working at the end, actually that was an Oracle. Then I moved over to VMware to work on their new consensus algorithms that they were building for their own enterprise blockchain service. They ended up taking one of our best scientists, Dalian Maliki, who is a very good friend of mine. I dug into the project a lot more and from my conversations with them, I was like, yeah, they did want to make their own blockchain. They did want to have something that others can use, making it as easy as sending email. It should be that easy sending money. That was the ultimate goal. So I interviewed at Facebook specifically for the role. In fact, I was recommended by one of the VPs there to come in to help on the project. I made it through the interview stage and that's when they exposed what they're really working on in detail and I was like, oh my God, I've got to get in on this project. If there's anything I'd like on in my career, I've done all these amazing things in crypto, but if I could help Facebook or work on this Facebook project and launch a global chain for everybody to use for value transfer, I had to be in that project whether you pay me or not. I'm excited. But I made it in and I got to work on, I actually came in to work on decentralized identity first. Very quickly, I realized that was not a priority. I shut down that effort quite quickly and I looked for a team to work with within the Libra project. Evan was leading the R&D work at Meta. So Evan, who listens in, is the CEO of Mysten Labs. He built the entire R&D arm at Libra that built the blockchain. The promo language move was developed because we took a look across all ecosystems, across all promo languages and what could be used to build safe smart contracts. Because if you're going to tell a regulator that you're launching a chain for value or for money and you want to give good assertions that this chain is secure, we want to go way above the curve of what people are doing and actually offer good forward guarantees. So we had to invent move. That was Sam's idea and Sam is the CTO of Mysten Labs. We came up with amazing crypto technology, things that basically allows you to email money to people directly, allows you to basically have more compressed signatures to do things in a more parallelizable way. A lot of that work was costless charquess. He actually is our Chief Cryptographer at Mysten Labs. So the brains behind the work we're doing at Libra from a technical side all came to Mysten George Deniz's startup was actually acquired by Facebook to help build out Libra. And he's behind all the wonderful work we're doing in R&D, especially on our consensus algorithms and things related. He's one of the most famous scientists in Greece where it comes to even just period as a whole. And I feel we have a really unique team. I was a product lead. I led a lot of work we did for a product side in R&D. My strong point is turning hard science or hard technical marvels into product. Like I care about consumers. I really want things that consumers can use and I can realize things that are very technical in nature and how to boil it down to something the average person can use day in, day out. And I think that team is so unique in crypto. All the different expertise in languages, compilers, crypto, consensus algorithms, products, marketing. It's that massive element of diversity and skill that really makes Mysten then Sui very unique. 
Matt Zahab 
Geez, talk about a sales pitch, holy, not bad. I mean, I sort of want to throw some money at this now. Yeah, I mean, yes, folks as stated many times, this is not an investing show, no financial advice, do your own research as always, but holy shit, what a pitch that was. Before we get more into Sui, let's just go back on the Facebook side of things again. Any, did you guys have any conversations with Zuck? Were there any classic Facebook ritual stories, you know, the crazy perks you guys had, the work-life balance, anything like that? Like walk me through the actual days of building it. Were you guys, I don't know, perhaps some super wrong here, but I feel like you guys were almost alienated in the sense that you had 99% of Facebook working on non-crypto stuff, then you had the crypto and blockchain guys, like walk me through the whole, everything that happened. Give us some good stories here. 
Adeniyi Abiodun 
I met someone who's crazy, but Facebook is probably one of the best companies in the world you can work for. It's got great engineering culture, great product culture. It's got a drive for growth that I've never seen anywhere else, and everything is scale. Forget small things, it's all about scale. It had amazing benefit packages. You walk through the main campus, it felt like Disneyland. It literally was modeled after Disneyland. I kid you not, you walk there, there's free ice cream, there's free food everywhere. You want to be there, you want to enjoy it, and then you want to build community there. I think it's a great place to work, and it's a great model for people to build across. Libra itself was a project that was very highly regarded within the company, but we were separated from the majority of Facebook. We had our own building that was private that you needed a special key card to access. Our pass allowed it anywhere else in the company, but no one could get into the Libra building because of things that worked on were very secretive in nature. We had a payment element that we were doing that we wanted to be sufficiently distanced from Facebook, the prime business itself, which is a right way to set things up. There's a lot of a lure to the majority of Facebook that wanted to actually work on Libra. It was one of the highest-browed projects that you actually want to work on in the company. Then I felt like we worked with some of the smartest people I've ever met within my life, Love Work with Kevin Wheel, who was VP of product for Libra. Maron Colbecki, Love Work with David Marcus. These are the smartest people I got to work with across the world on this project. Still in contact with the majority of these folks, I classified them as great friends. I felt like we really built a great culture of innovation, a great culture of trying to solve problems that we really cared about. Anybody you speak to on a Libra project was very passionate about the mission. You can't do it and not be passionate. There were easier ways to make money, easier things to do, a little disappointment. You had to be sold into the vision. I think if you spoke across the board, did a really good job of selling the mission in the vision, and that's really what hooks people in. I loved every moment on working on a project. I mean, look, the thing has sucked, right? In reality is we never got to launch it. We never got to see the light of day. Look, you can classify it as some of it was regulatory. If I had to classify it, the reality is you could look at Facebook history on privacy. You can name it something related to that, but I quite frankly think there is a fear, right? Overnight, two billion people have a bank account. That is bigger than any country in the world. It makes Facebook probably the most powerful company in the world, period, right? I think there's an element of fear that is probably well founded to be quite honest. And I understand that concern. I think there's a world where the infrastructure, the tech can be separated from the company, from the Facebook, the company itself, right? I think maybe Libra launched that as a smaller company would not have had as much scrutiny, right? But I think the bar that Facebook needed to meet and get out of the door, even though it was managed in a decentralized formula in a sense that there are multiple pretty much a coalition of companies that came together, or consortium, the right word for coin here, came together to put Libra together and launch it. That, the Facebook story was always behind it, and it was very hard to get away from that. No matter whether you have someone on the board who's not related to Facebook in any way, shape, or form, you do all the best you can on the code to make sure that it's highly secure. You do everything you can on the compliance front. I think just that narrative was strong enough to really derail the project, which is a shame, you know, if you're working on something for like years and years and you've poured your passion and energy into it and see it go light, it really hurts. But I think the reality of it is even since the project has been disbanded, multiple people have let and succeeded highly since then. I think that's a great success story. 
Matt Zahab 
100%. Quick question for you here. If now no longer Facebook, if Metta wanted to flip the switch and launch away, like I assume that I mean, it's Meta. There's no way they let you guys take any of that tech. I mean, there's no doubt it's still in your heads and you brought a lot of that over to your current endeavor. But if they wanted to flip the switch and have that, you know, two billion person bank and payment rail system, could they not do that tomorrow if they really wanted to? 
Adeniyi Abiodun 
They could do that and they don't need a blockchain to do that. I mean, they can leverage any chain to make that happen. The problem is, met it looking at the skill that they're at, and looking at all the solutions out there, nothing scale. Nothing. Even Libra, Marvin, Arla, Arngrman, we built it, right? Libra isn't scalable to manage Facebook scale, right? So the way in which we solve the problem is you go through a VASP, or virtual as a service provider to transact, and they will submit it to transact on your behalf. That is one way to change transactions. Whereas when we left Facebook, we thought, OK, now we know what we know. We built the system, we know the mistakes we made, we know the shortcuts we had to take to make it to market. What would it take for the Facebook of the world to launch their own virtual background chain where billions of people can literally use this thing at its scale to the scale that Facebook cares about? So we took those same engineering principles that we've used to build highly scalable systems, the most highly scalable systems that power billions of users day in, day out. And we applied that to Sui Tech. Sui Tech is very unique in the sense that it's the only technology that's horizontal scalable. People talk about TPS. That doesn't matter, right? Honestly, that's a stupid metric. What matters is if I demand more bandwidth or I demand more capacity, can you provide that, right? And still maintain the system integrity at scale? Yes, Sui is the only one that actually does that. And that's the design principle we put behind Sui. 
Matt Zahab 
I'm sorry, I was just gonna say, is that, that's actually a great point. And I mean, heck, you're, you're gonna be guest number 273, I believe. I don't think anyone has ever brought that up on the show before. Is TPS such a vanity metric or such an important metric bunny ears just because it's quantifiable, because it's measurable? Whereas with your argument in regards to, you know, needing bandwidth when it's available is more subjective. Is that why TPS is so sexy in people's minds? 
Adeniyi Abiodun 
Yeah, I mean, so imagine this, you go to Google and you are a multi-billion dollar company and you say you want to launch a map. And Google tells you, we could always support 100 apps per second. Or we could always support 10,000 apps per second. Doesn't matter what number you tell that business, but the fact that you have a cap on that number is a freaking red flag, right? That's a red flag. So anyone telling you our TPS is this or X or Y, you should run very fast away from that solution. It means there's no scale. And all of crypto, every blockchain, you name it, Solana, Aptos, Avalanche, you name it, all have that problem, right? So our story was like, we cannot build a system like that. Our system effectively needs to take that story away. Yes, even if we had to compare our system with existing systems, it's already orders magnitude faster, right? But like, we don't want to stop there. That doesn't matter. What matters is our system, you can throw in more hardware and it has unlimited TPS. That is what the Googles and the Facebooks and the massive organizations of the world want to hear. Can you do that issue? In the cloud, we call it like share a tendency or multi-tendency, right? So share a tendency is where everybody shares a single resource or shares a single machine. Blockchain see that all as a world where they're all sharing a single machine. And you really try to get multiple people to leverage just a single resource, which is really a multi-tenant system, but it's built as a single tenant utility, right? Whereas Sui is really multi-tenant for multiple users, right? Like anyone that writes a small contract, my small contract performance has not affect yours, right? And that's why we add more machines, more small contracts from the process in parallel, right? So it's really a multi-tenant system, not a single tenant system, pretending to be a multi-tenant system. So we have unlimited scalability. We can keep scaling and add more TPS. It sounds like BS, but reality is you don't question Google. Google says keep bringing more apps and Google figures it out. We have the same infrastructure. And that's why I think we're built different and our ideology and what we believe is required for the ecosystem is completely different from others. 
Matt Zahab 
I love that. We are absolutely buzzing right now, but unfortunately, Adeniyi we need to take a quick break and give a huge shout out to our sponsor, the show PrimeXBT. And when we get back, we are going to keep buzzing everything, Sui related, get your popcorn ready folks. Until then, huge shout out to PrimeXBT, longtime friends of cryptonews.com and longtime sponsors of the Cryptonews Podcast. PrimeXBT offers a robust trading system for both beginners and professional traders. It doesn't matter if you're a rookie or a vet, you can easily design and customize your layouts and widgets to best fit your trading style. PrimeXBT is also running an exclusive promo for the listeners of the Cryptonews Podcast. After making your first deposit, 50% that is 50% of that first deposit will be credited to your account as a bonus that can be used as additional collateral to open positions. Again, the promo code is CRYPTONEWS50 all one word to receive 50% of your deposit credited to your trading account. Now back to the show. Let's talk Sui. Let's go nitty gritty Sui. But before I'm going to start with a perhaps a bit of a comedic sprinkle on the cake. Ronaldo, I'm sure you've seen that Sui. Everyone loves it. When I first saw you guys, that's the first thing I thought of. I'm not even a huge football fan, but again, it's just it's part of pop culture now. Everyone does it. How often do you guys get that? You must get it a little bit. 
Adeniyi Abiodun 
All the time. I mean, Sui is Japanese for water, right? In fact, it's in many cultures, that word, Sui, means water, not just in Japanese. And the reason why we chose or coined that phrase or we use Sui is because when we're building a system, we want a system that's boundless, doesn't have a litter. And water at our view has no bound or limit. So be like water in the last scheme of things. So yeah, it wasn't for the Ronaldo Sui, but actually it has been quite helpful, interestingly as well. But a big Ronaldo fan. 
Matt Zahab 
You guys must get some residual advertising and marketing from that, eh? 
Adeniyi Abiodun 
We love it. 
Matt Zahab 
How hard is it like snagging a bunch of three letter domains and not just three letter domains, but like when you create a business, everyone's always said, less is more. Were there really any other good candidates for a name or was it just like, you know what, this is exactly what we want to go with where the bandwidth kings of blockchain and crypto, the name sounds clean, it's sexy. Like, was there any other options or was it just Sui it is, fuck the rest. 
Adeniyi Abiodun 
I think addressing really helps, right? Because there's no way, you know, I would have figured out that name or most of the people in the company where we have a very diverse team and that helps. We had a lot of terrible names. Like, I didn't want to go through names that we have. Never asked like, you know, I'll see two big names, like he's terribly weak in. But, you know, we had terrible names. I think the one name we had came up with a Sui and new and everybody immediately knew it was the right name. Like it's always great when it was like, ah, that's actually it, it's great. And I think we've been very, it's hard to find three little names for sure, but this one I felt was a bit of luck. 
Matt Zahab 
I love that. So one of the questions that I usually ask, and it's a bit of a cop-out question, is the founding story. But I think people can put two and two together here. You and a bunch of absolutely incredible, very switched on and smart people from the Facebook team, from the Diem team, came over and formed Sui. And again, you guys are a bit of a solution for the unbanked, preventing fraud, capital mismanagement, whole nine yards. What makes Sui unique? Because there's a bunch of companies that are trying to do the not exact same, but similar niche of crypto that you guys are. And I love when myself and the listeners can sort in, okay, we have a couple thousand blockchains right now. We all have our ideas of what blockchains and cryptocurrencies fit into bucket X, Y, and Z. What bucket do you guys fit into? What problems are you looking to solve? And how do you differentiate from the competitors? 
Adeniyi Abiodun 
Yeah, lots of pack there. I think the thing that makes Sui unique one is a team. Our team background, I think, is on parallel to anyone in crypto. We've actually systems that people use day in, day out. And I think it's hard to say that any existing team with Web3, that allows us to come in with a new lens of what's required for the next stage of crypto. And I think we're talking about bringing important band to crypto. Like we are fiber optic. And I think 56k is what we have today in this crypto and our goal. If you create more bandwidth, you have more interesting apps. Now we have Netflix, we have Amazon, we have wonderful applications that can be built now. I think in the world of dial up, we are very restricted, but it's still successful and it's done really well. But in that, they expect to bring in a billion users, needs builders who are accustomed to building things for the next billion users, right? And I'm happy to talk through some of the tech. Some of the things also that's very unique about Sui is our view on scale and gas. One, we think gas should not be this number that goes up and down like yo-yo, right? And should not be spiking depending on demand, right? The fact that 500 people is using the network and 2000 people using the network should not change my price. Just like when I go use Amazon or a website, they don't change my fees depending on the traffic from other people I've got, nothing to do with me. So Sui is designed to have flat pricing dollar wise. So Sui is the only network where gas would always be a flat number, dollar wise. In fact, gas will probably go down over time as we find more efficiency in hardware, right? But from a dollar perspective, as a user, gas should always be the same. That is a unique element of Sui. It's object-based. So most developers in the world write in object-oriented languages. So the idea that everything is an object, my phone is an object, my pen is an object, that is a paradigm that human beings are accustomed to, not bits and bytes, which most probably languages you find in Ethereum or Solana will drive you to. I can have a smart contract and I could throw an object into it and I can use that object and smart contract and pass it back out and respect all the rules around that object. That is very Sui unique. And we believe Sui has the shortest learning curve of any blockchain because a proper language is very accustomed to what every other developer does. I think in a world of Web3 where there are only really about 15,000 depths in Web3, that is less than departments in Facebook, how we say, right? Like of developers with Web, there are 9 million JavaScript developers. We want to have a language that 9 million JavaScript developers can tend to. So every point that we have is scale. How do people build faster, cheaper, leaner in the ways that make sense, right? Also, we don't have a max TPS as I mentioned and that's also because of our object structure. Because everything is an object in Sui, we statically know it is something else contention versus not. So because of that, it means we don't have to queue everything up in a queue just to process transactions, which is a bottleneck of every other chain. In Sui, I know that my transaction dealing with me sending money to you has nothing to do with someone doing land sales in the magic kingdom or wherever they be, right? So there are two different events. They should be queued separately. They have nothing to do with each other. We can still paralyze them and the more machines we have, the more transactions we can do. So it's unique. The most unique element of Sui is the team and our minds in how we build. Everything we do is augmented towards growth. And the tech itself is very unique. We have something we've launched recently. Oh, before I go into ZK login, sponsored transactions, we think also the idea of gas is pretty much stupid for most users, right? Like the fact that I want to onboard into a game, and you say go and download the wallet, first download the wallet, then go and buy some token and then come back at an onboard. Well, we know from our experience in building systems for major organizations that flow doesn't fly for 99% of use cases. So if you want to onboard games, you want to onboard, things that people really want to use, they have removed that friction. And there are two pieces of technology that Sui uniquely has that is ingrained in the protocol itself that doesn't need middleware for it to work. One of them is sponsored transactions, which means accounts can freely transact in the Sui blockchain without any concept of gas, but it's paid by another account in the B app and it's completely transparent to the user. It's just using the blockchain, which is more like SAS. Separately, we have something called ZK login, which is very unique and it's only possible on Sui. And what we do is we effectively allow you to use any existing open ID account that you have in Web2 to authenticate an account on Sui in a decentralized way. What I mean by this is you don't need to sign with some third party service or have someone constantly keys on your behalf for it to work or have some SAS agreement. No, you take your existing Google account, you basically use that to create a zero noise proof and you have an account on chain instantly. And a single API allows users to do that. Now, the most important thing is this means any website in the world that allows login with Google, login with Facebook, login with Twitch, which is a majority of sites of the world that basically can now serve billions of people across the world with assets natively on Sui. Now, it means anybody in the world with a Google account, a Facebook account, WeChat, anybody with an existing Web2 account that supports open ID, which is a myriad of them, has a Sui account, which means Sui is probably going to be the highest growing chain when it comes to reaching Web2 users that any other in the space, right? What's important about that is now imagine a world where you have a global Venmo. I know your email address. I can simply write a transaction on Sui to your email at whatever.com. By the way, you can claim it, right? Like if you even claim it, the funds are either locked or the user can claim it back if they choose a withdrawal or a return mechanism in the contract, right? So it means I could send any asset in the world if previously I was delivering tickets, concert tickets using email. Now I can deliver them using Sui. I simply do a mass delivery by email on Sui. People receive their assets and it's completely encrypted. And they can transfer those to people directly without having… Like how do you secure a ticket today, right? And you can even build secondary markets where if you want to transfer, here is a royalty fee. There's required for secondary transfers. That's enforceable. Now, programmable assets, I think, are going to be the future. I think Sui set up to do that at the skill is what we've seen. So you imagine experience in Sui where you don't have to worry about gas. You don't have to worry about wallets. You don't have to worry about private keys. You simply use your email account or whatever account you have. You can use that to send value to anyone in the world that you already know or friends with. That is the use case that we care about. And that's the use case that Sui enables uniquely at a scale there's what we've seen before. So you don't have to worry about high gas fees or have to worry about scale. You know, I think the kind of user profile or build a profile, you're going to see on Sui, will be inherently Web2. It's going to take us to, you know, we're not concentrated on stealing market share from existing Web3 chains, which we are actually doing really well. Sui is the highest growing chain by TVL. There's non-EVM related today. I think we just surpassed some of the chains that have been around for like two to three years. And we'll continually grow that, but our interest is growing at pie. Adding net users in Web3, they've never used Web3. But more importantly, we do not want them to know anything about Sui or tokens. We just wanted to know that they're using the infrastructure. How you choose to build on Sui or build using the Sui set of APIs because it offers you this flexibility and this composability that just throwing it on a database doesn't offer you. 
Matt Zahab 
I absolutely love that. Speaking of the new generation and Web2 users, we have to discuss the Gen Zers and their prominence of the digital economy, more specifically gaming. Every single one of these Gen Zers I'm generalizing here. 95% of them are absolutely addicted to video games and are on their phones 24/7. I have a cousin, she's absolutely incredible. She has more friends on her Roblox than she does IRL. These are good friends of hers. This isn't fugezzy. When I was her age, my best friends I was playing hockey, soccer, running, causing mischief, doing dumb shit in the schoolyard, running around streets. They're online 24/7. You and the team understand the importance of gaming and the digital economy, that the newer generations are part of. How are you guys planning on onboarding the millions and millions and the new economy folks.
Adeniyi Abiodun 
Yeah, I mean, you make the point and that's clear. Like for us, gaming is the use case to bring the next billion users into web3. It is by far, a large way to do that. And the reason why it makes sense, gaming is always ahead on the technology curve. Like they innovate faster than they always adopt technology. 
Matt Zahab 
So true. 
Adeniyi Abiodun 
And on top of that, when it comes to monetization, figure out monetization, think about the free to play model, gaming that at work, we were able to re-experiment openly and be willing to fail, whereas other industries are way slower to adopt this kind of tech, those kind of models. I think gaming for us is our biggest focus, and then next finance and commerce. So if you think about what we've done, we have 60 studios signed up to launch games on Sui, and these are from billion-dollar companies all the way to experienced studios who have been building games with some of the largest companies in the world. So we're going to own, most of these games are high-quality Web2 games that users are already accustomed to the element of ownership. Ownership in games is already something users are accustomed to. And now Sui frees up that ownership model where they could do more interesting things that previously weren't possible, whereas when they just store in assets on AWS or GCP. So that's what we're very excited about. I think that's going to be where the hundreds of millions of users come from all the way to the billions, because they're using it for extended shelf life of the game. They're using it to enable it to charge closer to what the customer is willing to pay. They're using it to also build new form of engagement and retention that wasn't possible, and also new forms of marketing and targeting that just wasn't possible previously. That was very expensive to do. So it isn't an over-financialization of games, which I've seen others do to their detriment, because I think it's one thing to lose a game. It's another thing to lose a game and use money at the same time. But it's making the games more fun, more engaging for people to play and keeping you around the game a lot longer, because it's a more fun and inviting way for you to play and other assets. So that's why gaming is huge for us. In fact, three of the largest gaming companies in Korea who previously led the way in free to play models are building on Sui already. And we have some of them who are fitting gaming studios and we're all building on Sui. So there is a massive portfolio of games coming onto Sui, even some in Hollywood. Games from major Hollywood titles are coming onto Sui exclusively. That I'd love to share in the future as well. 
Matt Zahab 
I love that. Well, we're definitely gonna have to have you on for round two. A couple more things and then we'll wrap up. We are getting a little tight for time here. You discussed big brands, corporate brands, more specifically how they are currently partnering with Sui. I mean, we've heard the song and dance for what, four or five years now. How, oh, every Fortune 500 company is not gonna have a choice, but to join the blockchain world, joining Web3. I have seen very few actual use cases that are legit and have traction and have the magic word of crypto utility. You guys are actually moving the needle in the space. You got to get into this before we let you go. 
Adeniyi Abiodun 
Oh yeah, so you see a lot of press releases all the time, like, oh, this blockchain is partnered with X and Y and nothing really happened, all you read into it is really contract. You're signing to pay the vendor to do something. And I'm just saying, there's a lot of hype that we see. We don't like wasting money and we don't like to do partnerships that don't make sense. I think our goal for us is to work with major brands, more key brands, to solve problems that are key to the way they do business. If it's not an important thing for them, we're not interested in working on those projects. But if it's something related to their core business, and I think one of the biggest areas that we're seeing companies care about more is fandom, right? Petronage, that's the stuff that really matters with the big brands. We're doing work where official sponsors and technology partners with Alka Red Bull, we're going to be building a lot of fan-based, engaging tools for that ecosystem, for people to own assets, to trade assets, to basically level up and use NFTs and tokens and even digital assets as a way to create fans, or at least build fandom in a more engaging way that's crucially possible. And this extends to lots of brands across the board, right? So it's really the utility element of using the chain to solve business problems that we care about. Because what do we care about as a chain, right? We care about, you know, TPS. We want demand for the block space, which is infinite in suite. So the more block space, the more reviews the network makes for the participants of the network, we care about the daily active users. We think daily active users will come from massive existing ecosystems who can be onboarding into suite. And if you have a world where they don't have to worry about wallets, they don't have to worry about private keys, they don't have to worry about gas, they can onboard into our ecosystem very quickly and gain value in the ecosystem very quickly without the friction or the barrier that 3 brings in most cases. So there'll be a lot more polishes we are announcing that effect, but these polishes are specifically focused on business use cases that are paramount to their core business. 
Matt Zahab 
I love that. Adeniyi, what an episode, man. You absolutely put my head in a blender in the best of ways possible. I got a lot of homework to do. This isn't a show where guests come on and pitch their product. You didn't do that, but you sort of did just because of how well-spoken you are and were and everything you said about Sui. This was an absolute treat. I really appreciate you coming on and non-negotiable. You must come on for round two, especially at the pace that you and the team are moving and grooving. This was a lot of fun and we barely scratched the surface. Before we let you go, can you please let our listeners know where they can find you personally and Sui online and on socials? 
Adeniyi Abiodun 
I'm on Twitter, my username is @EmanAbio, E -M -A -N -A -B -I -O. And you can check us out at sui.io, very easy. 
Matt Zahab 
What's the ideology behind the Twitter bio? Or Twitter handle, rather. 
Adeniyi Abiodun 
My Christian name is Emmanuel, so Emmanuel Abio, then Eman Abio. But I go by Adeniyi for the time anyway. 
Matt Zahab 
Gotcha, love it. What a treatment. Absolutely incredible episode. Can't wait to have you on round two. 
Adeniyi Abiodun 
It's an honor. Thank you so much. 
Matt Zahab 
Folks, what an episode with Adeniyi Abiodun, the Co-Founder and CPO of Mysten Labs. He was absolutely on Fuego this episode. We'd love to see it. Drop in knowledge bombs all over the place. What an episode, folks. I hope you enjoyed this one. If you did, it would mean the world to my team and I if you would subscribe. To the team, love you guys. Thank you so much for everything. Justas my amazing sound editor. You're the GOAT. I appreciate you as always. And back to the listeners. Love you guys. Keep on growing those bags and keep on staying healthy, wealthy and happy. Bye for now and we'll talk soon.